Zilele trecute am avut ocazia sa vad un film remarcabil. Sunt din ce in ce mai putine filme noi care iti schimba viata, prin faptul ca te impresioneaza atat de tare povestea, personajele, felul in care decurg lucrurile, TOT. Regizorul Gabriele Muccino a colaborat din nou cu celebrul actor Will Smith la noul proiect (dupa emotionantul The Pursuit of Happyness) intitulat Seven Pounds.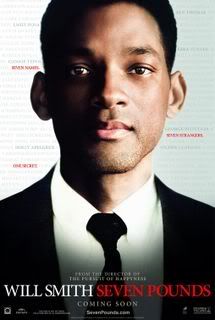 Nu imi plac filmele a caror actiune nu urmeaza un fir cronologic ; nu mi se par mai interesante si, in mod paradoxal, mi se par mult mai previzibile. Seven Pounds este un astfel de film, care iti da explicatia exact in ultimele minute ale filmului. Dar merita asteptarea, pentru ca intregul film este extraordinar.
Sa incepem cu inceputul. Will Smith se da drept este Ben Thomas, un agent al FISC-ului care, initial, verifica daca anumite persoane merita sa primeasca amanarea platii taxelor catre stat. Prima persoana este directorul unui azil de batrani, iar Thomas incearca sa afle in primul rand daca acest om este bun. Cum o batrana nefericita nu ii da raspunsul pe care si-l dorea, el pleaca in cautarea altei persoane la ananghie. Filmul continua cu povestile altor persoanje pe care Thomas se ofera sa le ajute fara sa ceara nimic in schimb. Emily Posa este o tanara ce sufera de o boala cardiaca. Ea se imprieteneste cu Thomas, care o ajuta sa treaca mai usor peste starea ei fragila, pana cand un trasplant de inima ramane singura ei sansa de supravieturie. Intre cei doi se naste si o frumoasa poveste de iubire, foarte naturala, realista si duioasa. Rolul tinerei este interpretat de Rosario Dawson, iar relatia dintre ea si Will Smith este incredibila! In paralel, putem vedea imagini cu vechea lui viata si incercam sa ne dam seama de ce este asa nefericit si tulburat…
Explicatii sunt prea putine pana la final. Avem parte in schimb de intamplari legate de momente importante din trecut, pe care nu le cunoastem. Momentul aparitiei fratelui lui Thomas declanseaza deznodamantul povestii, iar nu dupa mult timp primim si raspunsurile mult dorite. Finalul este sfasietor si imprevizibil. Chiar daca mi-am dat seama de ideea acestuia, nu m-am gandit ca se va sfarsi in modul ala! Si nu trebuie sa fii genul care plange la filme ca sa versi cateva lacrimi la acesta, in principal la sfarsit!
Trailer-ul filmului :
Seven Pounds va avea premiera pe 13 martie 2009!

TREBUIE SA IL VEDETI!
* nota 9 cu felicitari 🙂
Eu sper sa vad Revolutionary Road, The Curious Case of Benjamin Button si Vicky Cristina Barcelona zilele astea. Si dupa, pauza pana dupa sesiune 😐