Maine noapte are loc editia din 2017 a Premiilor Oscar, asa ca acest weekend va fi dedicat celui mai important eveniment de la Hollywood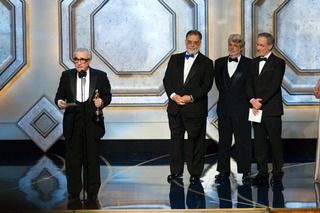 Mergem putin in trecut, la cea de-a 79-a editie a Premiilor Academiei, care a avut loc pe 25 februarie 2007, la Kodak Theatre din Los Angeles. The Departed, unul dintre filmele mele preferate, a obtinut 4 Premii Oscar – pentru cel mai bun film, regizor (Martin Scorsese), scenariu adaptat si cel mai bun actor in rol secundar (Mark Wahlberg); dupa 5 nominalizari, pentru Raging Bull (1981), The Last Temptation of Christ (1988), Goodfellas (1990), Gangs of New York (2002) si The Aviator (2004), Martin Scorsese a obtinut in sfarsit Premiul Oscar pentru cel mai bun regizor! Acesta a declarat anul trecut ca, desi ii place filmul, experienta din post-productie a fost extrem de neplacuta.
Helen Mirren a fost declarata cea mai buna actrita, pentru rolul Reginei Elizabeth a II-a din The Queen, Forest Whitaker a luat Premiul Oscar pentru rolul dictatorului Idi Amin din The Last King of Scotland , in timp ce Alan Arkin si Jennifer Hudson au fost desemnati cei mai buni actori in roluri secundare, pentru Little Miss Sunshine si Dreamgirls. La 72 de ani, acesta a fost primul Oscar pentru veteranul actor Alan Arkin.
Pan's Labyrinth, un alt film absolout genial, regizat de Guillermo del Toro, a primit 3 Oscar-uri, iar An Inconvenient Truth, Dreamgirls si Little Miss Sunshine au obtinut, fiecare, 2. Editia din 2007 a fost prima si singura in care filmul cu cele mai multe nominalizari (8), Dreamgirls, nu a primit-o si pe cea pentru cel mai bun film. De asemenea, "I Need to Wake Up" din An Inconvenient Truth a devenit prima melodie dintr-un documentar care a castigat Oscar-ul pentru cel mai bun cantec original. Ceremonia a avut-o ca gazda, pentru prima oara, pe Ellen DeGeneres.
Best dressed: Nicole Kidman in Balenciaga, Penelope Cruz in Atelier Versace, Rachel Weisz in Vera Wang, Naomi Watts in Escada si Jennifer Lopez – rochie Marchesa.